Burial
Sunday, December 24, 2006 - Posted by Javi Lavandeira
On Tuesday I wrapped Nana's body in the same kind of tissue paper that she liked for her nest. I put her in a small straw box filled with the wood shavings that she liked so much. She would wait there until I could bury her on Saturday.
On Friday night I removed Baru's remains from the big flower pot where I buried him in January. I wrapped them in tissue paper too and put them in another box. He had been buried there because when he passed away it was too cold to go to Mount Takao.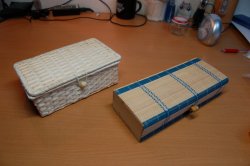 Nana on the left, Baru on the right
On Saturday morning I took them to Mount Takao and digged a hole about a meter away from where
Flan
is buried. I took out Nana and Baru's remains and buried them together with some of their favourite seeds and a bunch of flowers.
Be happy wherever you are now, my little ones.