Went to the nail salon
Sunday, February 13, 2005 - Posted by Baruchito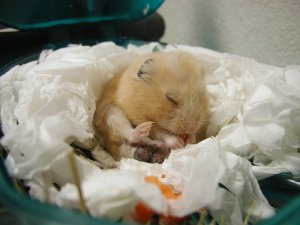 Today Papa said that my nails were too long and that he was going to take me to get them clipped. I got very excited because I had never gone to a beauty salon before! I was hoping to meet some beatiful girls who would comb my hair and massage my back while they manicured me...
But instead, we went to the pet hospital! I thought it was strange, because I have never seen any cute girls there before. But probably that was because I had never gotten my nails clipped, so probably it was ok. I decided to sleep in my travel cage while we waited.
When our turn came, there were no cute girls. Only my doctor. I like him very much because he takes care of my family, but he's not very cute. He put me on the top of his table, let me walk around it for a while, and then he held me from my back, and then blocked each of my legs between his fingers one by one as he clipped my nails.
It felt terrible. I was trying to escape and get back into my travel cage, but he didn't let me go until he clipped all of them. No hair combing, no massage. Next time I will ask Papa to take me to a real beauty salon.