Testing my new wheel
Tuesday, March 28, 2006 - Posted by Flan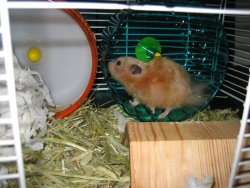 When I went to see Dr. Ozawa he told Papa that I need to do more exercise. Since some time ago I wasn't using my cage wheel anymore because I like making my nest just in the corner behind it and it cannot move because I like to put lots of tissue paper under it. I did exercise only when Papa took me out for playing and sometimes when I climbed to the bars in my cage.
But today after I went back to my cage after playing outside I found a new wheel inside my cage! I tried walking on it for a while and it works nicely.
Papa told me that I should run a lot on it so I lose weight, but I just felt like walking for a while. Then I went back to my warm nest.